Introduction
No pause and rewind. Fast forward instead and rebrand. The Sony Ericsson W8 is an Xperia X8 in Walkman guise. There's not even a hint of surprise about it. The Sony Ericsson W8 has no new tricks up its sleeve. It's a year old droid with an ear for music. And this droid has a smile on its face, knowing it has no tough battles to fight or anything to prove. Safe in the knowledge that it may as well kick the snot out of most mp3 players out there.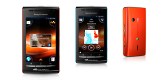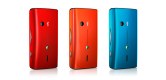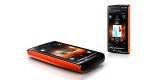 Sony Ericsson W8 official photos
Walkman has been lying low, the Sony Ericsson Yendo the closest they've been lately to a headline-grabber. Compared to the Yendo dumbphone, the W8 is a Swiss army knife. It's a smartphone and will see to it that you're connected, be it your precious social network or the entire web. It has access to the Android Market and a good simple music player with storage for thousands of songs.
Key features
Quad-band GSM/EDGE, HSDPA 900/2100 / HSDPA 850/1900/2100
3.0" capacitive TFT touchscreen of HVGA resolution, 16M colors
Scratch-resistant screen coating
Android OS v2.1 Eclair with custom Sony Ericsson UI, featuring Timescape
Qualcomm MSM7227 600 MHz processor, 168 MB RAM
128 MB onboard storage, microSD card slot (up to 16GB), 2GB card included
3 megapixel fixed-focus camera with geotagging, VGA video @ 30fps
Wi-Fi connectivity
Bluetooth 2.1 with A2DP
Built-in GPS receiver, digital compass
microUSB port, charging enabled
Standard 3.5 mm audio jack
Excellent audio quality
FM radio with RDS
Accelerometer for UI auto-rotate
Social networking integration
Main disadvantages
Limited storage for installing third-party apps
Outdated Android version
No multi-touch support
Camera has no autofocus
No DivX video support out of the box
microSD slot under the battery cover
No secondary video-call camera
Fingerprint-prone glossy finish
There are some compromises
, but they're inherited. The W8 owes them to its Xperia sibling. The lack of multi-touch and the outdated Android version immediately come to mind. In the camera department, the deal-breakers are the lack of autofocus and flash. There are almost no settings available either. The list goes on but no phone is perfect.




Sony Ericsson W8 live shots
Or, shall we say, no cheap phone is perfect? With the right price tag, the Sony Ericsson W8 could be the entry-level smartphone of choice for those with fond memories of Walkman. The music credentials will be a serious boost to an already half decent package. No doubt, the Xperia X8 needed an update - along with the rest of the Xperia lineup. There couldn't have been a better (easier?) way to freshen it up than the Walkman branding. It's fun, fresh and no frills. On top of that – it's Android
Retail package is good
The retail package is where the Walkman branding begins to make a difference in the shape of a nice 3.5mm headphone jack with music controls. Other than that, it's the usual charger and USB cable, and a complimentary 2GB MicroSD card. The latter may not be enough for a music-centric device but it's a start.



The Sony Ericsson W8 retail box
There is a handful of quick user guides too in several languages. As for the 2GB microSD card, it is already inserted in the device's memory card slot.
Sony Ericsson W8 360-degree spin
The Sony Ericsson W8 is a compact smartphone but, well, a 3" HVGA screen is nothing to shout about. As a reference, the new Xperia mini has a 3" screen and it's a much smaller phone.
The weight of 104 grams is definitely on the light side, though 15mm thick does sound a bit much. The phone is comfortable enough to handle.
Design and construction
The Sony Ericsson W8 is an Xperia X8 with a different paintjob. They swapped the matt plastic finish for a bit of gloss, resulting in a very smudge-prone surface.
The W8 is hitting the market in three color options: Azure (our unit), Red and Orange. Only the back panel is of different color, the glossy black front is nonnegotiable.
The screen size and resolution are about as good as you can find in the class. The thing to note is the W8 has got rid of the banding issues that plagued the Xperia X8. Images look crisp and nuanced and the UI is thumb optimized to let you comfortably thumb your way around the interface.


The 3" display has its ups and downs
The screen sensitivity is excellent, responding to the lightest of taps, for a great touchscreen experience.
The image quality is passable as far as TFT displays go, with good enough brightness and contrast levels. Viewing angles are OK but sunlight legibility is poor. The screen reflects too much light making it nearly impossible to use the phone on a bright sunny day. We guess we can still rank it a tad above the HTC Wildfire S, for example.
Display test
50% brightness
100% brightness
Black, cd/m2
White, cd/m2
Contrast ratio
Black, cd/m2
White, cd/m2
Contrast ratio
Sony Ericsson W8
0.18
125
696
0.34
250
737
Sony Ericsson Xperia Neo
0.19
299
1577
0.31
513
1670
LG Optimus Black P970
0.27
332
1228
0.65
749
1161
LG Optimus 2X
0.23
228
982
0.35
347
1001
HTC Wildfire S
0.43
256
603
0.76
314
414
HTC Incredible S
0.18
162
908
0.31
275
880
Motorola Atrix 4G
0.48
314
652
0.60
598
991
Below the display there are three hardware keys: Menu, Home and Back button. Those are thin keys but nicely raised and with good press feedback.



The three keys below the display
On the right side of the phone you'll find the volume rocker and a dedicated camera button. We like it when phones have a shutter key but given the fixed focus camera of the W8, the gain is questionable. The volume rocker is too thin – thinner than the front-facing main controls.


The right side features the volume rocker and the camera button
Above the display we find a status LED, the earpiece, as well as proximity and ambient light sensors. There's a manual brightness setting, but the ambient light senor always has the last say so you can't go extra low in bright sun or to maximum heights in complete darkness. The proximity sensor is in charge of locking the display when you hold it next to your ear during calls.


The earpiece flanked by the proximity and ambient light sensors
The left side of the phone features no buttons or connectivity ports.

The left side of the W8 is bare
The screen Power / Lock key is on top, a small and barely protruding knob, ruling out accidental presses.
You'll also find the audio jack and the microUSB port at the top. The microUSB port has a protective flap (which is too hard to open), while the audio jack is exposed. As far as the bottom is concerned, it features just the mouthpiece and the lanyard eyelet


The power/screen lock key, the custom 3.5mm audio jack and the microUSB port
The back of the phone hosts the 3 megapixel fixed-focus camera lens and the loudspeaker. The camera lens is not covered but quite inset, giving it reasonable protection against scratches. It is inviting to dust though. On the other hand it's hardly a snapper so valuable as to need special protection.


The camera lens and the loudspeaker grill are on the back
Removing the battery cover reveals the microSD card slot and the SIM compartment. The microSD slot is hot-swap-enabled despite being placed under the battery cover. The Sony Ericsson W8 is powered by a 1200mAh Li-Po battery quoted at up to 446 hours of standby and 4 hours 45 minutes of talk time.


A look under the back cover
The Sony Ericsson W8 fits snugly in the palm. The compact size and comfortably curved rear make it nice and secure to hold. 15mm thick certainly sounds alarming but the shape didn't bother us at all. The W8 easily allows single-handed use and the curved corners do help mask some of the thickness.
Even though it's completely made of plastic, the W8 still feels durable. USB charging and the standard 3.5mm jack are good things to have.


User interface – Eclair is a step up
The W8 comes with Android Eclair 2.1 preinstalled, which is quite a letdown. Even in this price range it's hard to forgive the use of an outdated platform version like that. Froyo was announced more than a year ago and even Gingerbread has been around for more than 6 months. Just how Sony Ericsson though they will get away with that one is beyond us.
We've prepared a demo video of the W8 in action.
The Sony Ericsson W8 uses the same homescreen as its sibling the Xperia X8. This means that the screen has HVGA resolution, which is about as good as you can expect in this class, and measures 3 inches in diagonal.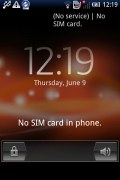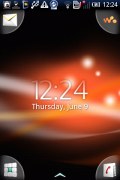 The lock screen • Main homescreen
The handy four-corner shortcuts from the X10 mini make an appearance here as well. By default, they take you to the message composer, music player, phonebook and dial pad/call log. You can switch them with any four shortcuts you like though.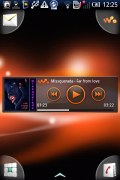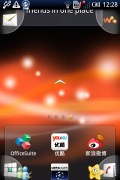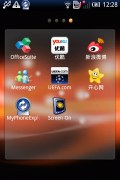 The screen holds only one widget • Bringing up the menu
Android's notification area is as usual at the top of the screen. It's a thin strip hosting status info about battery, signal strength and others such as Bluetooth or missed events. Sliding it down however reveals the whole story - you get a list of all recent notifications.
The W8 packs the Timescape UI plug-in but lacks the Mediascape one. In fact, Timescape is available as a separate application and its job is to bring all your communications together.
It always displays an aggregated view of your SMS, MMS, email, missed calls, Facebook and Twitter updates all on one screen. It also has a large number of tabs to filter the content by type.
You're still limited to one widget per screen. And no shortcuts or folders either. And those widgets leave a lot of unused space – Sony Ericsson could have easily fit two widgets per screen. At least, you get as many homescreen panes as you want (as many widgets as you have, that is) and they are easy to rearrange.
To bring up the task switcher on the W8 you press and hold the Home key just like on any other Android phone. It gives you access to the six most recently used apps. Due to the logic of the operating system, some of them might be hibernating rather than actually running in the background.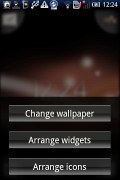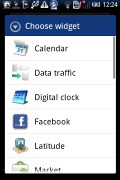 Placing a widget
Synthetic benchmarks
Here's how the W8 did on synthetic benchmarks. It utilizes a 600 MHz ARM 11 processor and Adreno 200 graphics chip. Basically it's not the sharpest tool in the shed but for most intents and purposes it does decently with the hardware it has.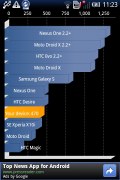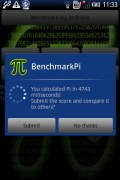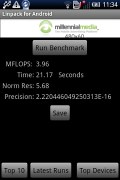 Quadrant • BenchmarkPi • Linpack
Benchmarks-wise the W8 isn't here to impress and most definitely isn't a contender for droid-fights but in real life it feels solid.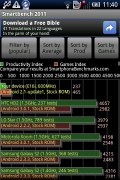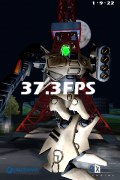 Smartbench 2011 • Neocore
Despite this the UI feels fluid and there were not many hiccups while we were operating the phone. The only time it slowed down was when it was preparing the SD card after removal, which for most people will not be more than once a day. App performance is a whole other question of course, but even there the W8 is not too bad.
Phonebook
The W8 phonebook can store quite a lot of information. It lets you input numbers for work and home, but this time there are no custom labels. There is of course an email field and you can assign a custom ringtone.
You can add an IM nickname to the contact as well as a postal address, company and job title, several notes, you name it. You can redirect calls directly to voicemail.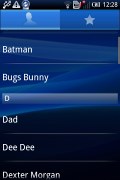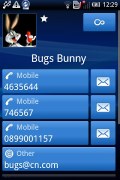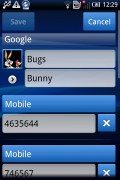 The phonebook is comfortable enough to navigate
When viewing a contact, the various details are displayed in sections. Tapping on a given number dials the contact while opting for the envelope icon next to it launches the message editor. Those two buttons fill an entire horizontal row so that they are more thumbable.
Telephony
The Sony Ericsson W8 had no issues with reception and the in-call sound was loud and clear.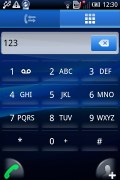 Telephony is good but lacks Smart dial
Unfortunately the W8 doesn't feature the smart dialing feature that we appreciate so much.
In the W8 the call log is a part of the dialer application. You can easily search the entries in it by flick scrolling.
Thanks to the proximity sensor the Sony Ericsson W8 automatically switches off its touchscreen when you hold it next to your ear for a call. There is no chance of ever hitting an on-screen button with your cheek on this one.
We also ran our traditional loudspeaker test on the Sony Ericsson W8. It received a "below average" score but is loud enough in most scenarios. More info on the test, as well as other results can be found here.
| | | | | |
| --- | --- | --- | --- | --- |
| Speakerphone test | Voice, dB | Pink noise/ Music, dB | Ringing phone, dB | Overal score |
| Sony Ericsson W8 | 66.5 | 62.2 | 69.7 | Below average |
| Sony Ericsson Xperia X8 | 66.6 | 66.6 | 69.1 | Average |
| Samsung Galaxy Gio S5660 | 70.7 | 65.7 | 70.6 | Average |
| Samsung Galaxy Ace S5830 | 71.0 | 66.7 | 66.5 | Average |
| Samsung Galaxy Mini S5570 | 68.0 | 65.9 | 70.6 | Average |
| Nokia C5-03 | 73.7 | 65.7 | 75.7 | Good |
| HTC Wildfire | 74.3 | 66.6 | 75.7 | Good |
| HTC Gratia | 71.9 | 72.6 | 82.7 | Very Good |
| Nokia C6-01 | 75.0 | 66.3 | 77.8 | Very good |
| LG Optimus One P500 | 77.1 | 74.5 | 77.9 | Excellent |
Messaging
The SMS and MMS messaging section is quite straightforward and simple. There's the new message button on top and a list of all your messages organized into threads beneath.
When you add multimedia content to the message, it is automatically turned into an MMS.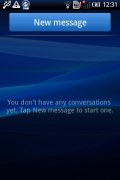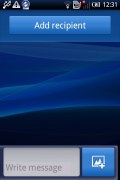 Messaging
The screen of the Sony Ericsson XPERIA X8 is not big enough to accommodate a regular QWERTY keyboard comfortably in portrait mode, but in the landscape mode it's nice to use. The virtual keyboard won't please heavy texters perhaps but it's good enough for the occasional use.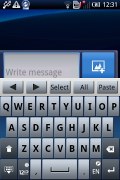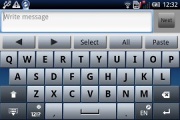 The on-screen keyboard is good but tiny
Moving onto email, the Gmail app supports batch operations, which allow multiple emails to be archived, labeled or deleted. There is also a generic email app for all your other email accounts and it can handle multiple POP or IMAP inboxes. The standard email app doesn't do threaded email – this is enabled in Gmail only.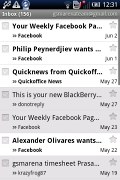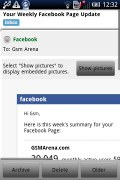 The Gmail app
The default Instant Messaging app that comes with Android is Google Talk – and it's very good. The G-Talk network is compatible with a variety of popular clients like Pidgin, Kopete, iChat and Ovi Contacts
Mediocre gallery
The Sony Ericsson W8 gallery automatically locates the images, no matter where they are stored. The vanilla Android gallery with the cool 3D effects isn't present however – you just get a plain grid with your images sorted by date.
The gallery supports finger scrolling or panning so you can skip images without having to return to the default view. Just sweep to the left or right when looking at a photo fullscreen, and the previous/next image will appear.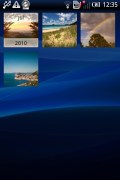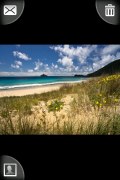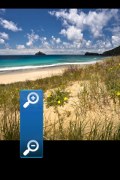 Sony Ericsson W8 gallery
Pinch-zooming isn't available (in 2011!) but Sony Ericsson has come up with their own version of one-finger zoom that actually works great. You just hold your finger down and than sweep upwards for zooming in or downwards for zooming out. There's also the double-tap zoom if that's how you roll.
Sharing options include Email, Facebook, Gmail, MMS and Bluetooth and any other services that you might install through the Android Market, which supports gallery integration.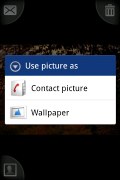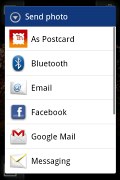 Gallery options
The other downside of the W8 gallery is that it doesn't display the full resolution photos, but downsized versions instead.
Video player is as basic as it gets
The video player is simple in looks and functionality. You get a list of all videos available on the phone and play/pause, skip controls, as well as a draggable progress bar.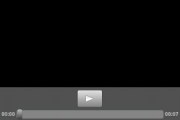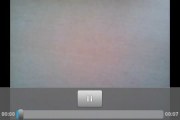 Video player is pretty basic
MP4 files are as good as it gets. The W8 cannot play DivX/XviD videos but you could look for a more versatile video player over at the Android Market.
Walkman music player not as good as we hoped
Despite the Walkman branding the W8 didn't get too many new features for its music player. It manages your audio files decently but there is very little extra functionality beyond that. Still it got a color facelift and now feels more Walkman and less Xperia.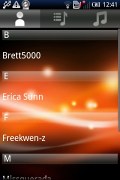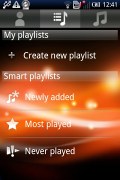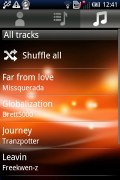 Walkman touch player
There isn't even search-as-you-type on the virtual QWERTY, so you will have to use the kinetic scrolling or opt for artist sorting. At least there are three smart playlists that automatically gather your Newly added, Most played and Never played tracks.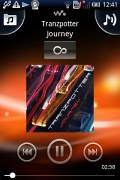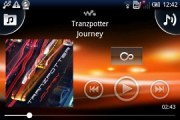 Now playing screen
The best bit is the Infinite key that allows you to quickly look up a song or album on YouTube or Sony Ericsson's own Play Now arena.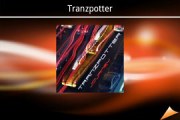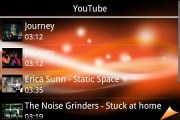 The online music services menu
There are still a lot of shortcomings of the music player that need addressing, though. For example there are still no equalizer presets, nor any alternative skins.
Walkman audio quality
The audio quality is where the Walkman pedigree of the Sony Ericsson W8 really shows. The handset is loud without sacrificing almost any quality no matter if you use it with an active external amplifier or with a pair of headphones.
With no resistance applied to its line-out (i.e. when you use it with your home or car stereo) the W8 does great all over the field. The intermodulation distortion is the only thing that audiophiles might choose to frown at, but the rest of the scores are all excellent.
Performance is similar when headphones are connected - intermodulation distortion rises a bit higher, but the rest of the readings are more than the price tag could demand. We are especially impressed by the stereo-crosstalk reading, which is among the higher we have seen (with headphones plugged in, of course).
And here come the full results so you can see for yourselves:
| | | | | | | |
| --- | --- | --- | --- | --- | --- | --- |
| Test | Frequency response | Noise level | Dynamic range | THD | IMD + Noise | Stereo crosstalk |
| Sony Ericsson W8 | +0.08, -0.23 | -86.8 | 88.7 | 0.027 | 0.131 | -84.1 |
| Sony Ericsson W8 (headphones attached) | +0.32, -0.18 | -86.6 | 86.3 | 0.098 | 0.323 | -58.2 |
| Sony Ericsson Xperia X8 | +0.12, -0.55 | -75.6 | 76.5 | 0.024 | 0.093 | -70.7 |
| Sony Ericsson Xperia X8 (headphones attached) | +0.31, -0.20 | -74.9 | 75.6 | 0.093 | 0.341 | -60.4 |
| HTC Wildfire S | +0.15, -0.79 | -81.3 | 84.1 | 0.026 | 0.131 | -81.3 |
| HTC Wildfire S (headphones attached) | +0.56, -0.34 | -81.0 | 83.1 | 0.026 | 0.324 | -68.1 |
| Samsung Galaxy Gio S5660 | +0.11, -0.46 | -83.7 | 85.6 | 0.018 | 0.091 | -82.2 |
| Samsung Galaxy Gio S5660 (headphones attached) | +0.28, -0.16 | -83.6 | 85.6 | 0.017 | 0.387 | -39.0 |
| Samsung Galaxy Mini S5570 | +0.11, -0.45 | -83.0 | 85.3 | 0.022 | 0.077 | -80.6 |
| Samsung Galaxy Mini S5570 (headphones attached) | +0.88, -0.24 | -82.4 | 84.7 | 0.023 | 0.427 | -43.7 |
| LG Optimus One P500 | +0.17, -1.69 | -85.6 | 87.2 | 0.021 | 0.301 | -86.2 |
| LG Optimus One P500 (headphones attached) | +0.19, -1.36 | -85.4 | 86.9 | 0.021 | 0.643 | -46.5 |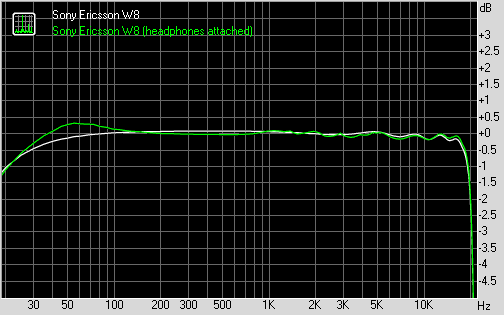 Sony Ericsson W8 frequency response
You can learn more about the whole testing process
here
.
FM Radio
The Sony Ericsson W8 is also equipped with an FM radio, which has a really neat and simple interface. It automatically scans the area for the available stations and places "notches" on the frequency dial for easier scrolling to the next station. Or you can mark some of them as favorite for easier scrolling.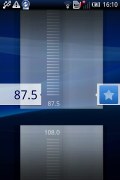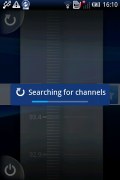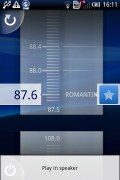 Mediocre camera
On the hardware side of things, the Sony Ericsson W8 has a 3 megapixel camera module for a maximum image resolution of 2048 x 1536 pixels. Sadly, there is neither autofocus nor flash.
The camera interface is as simple as it gets with three buttons in total. There is a camera/camcorder switch, a gallery button and scene mode. The four available scene presets include twilight, sports, beach/snow and, of course auto.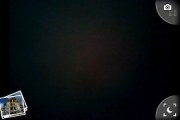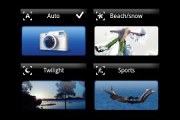 The camera UI
You can enable geotagging, which is the most advanced feature available. You'll have to go all the way to Settings / Sony Ericsson / Camera to find that option though, it's not available in the camera app itself.
This is certainly one of the most basic camera interfaces on the market but we guess Sony Ericsson thought users wouldn't need much more and would prefer simplicity to functionality. In the end, it all comes down to the image quality, so let's see.
The image quality turned out to be disappointing. The aggressive noise reduction smudges fine detail and the white balance could've been better too.






Sony Ericsson W8 camera samples
Anyway, looked at on the phone's 3-incher the photos look nice, which is what matters for some.
Photo compare
The Sony Ericsson W8 enters our Photo Compare Tool to join the 3.2MP lineup. The tool's page will give you enough info on how to use it and what to look for.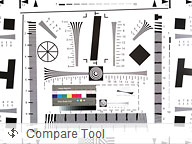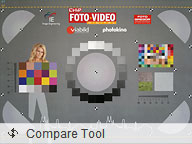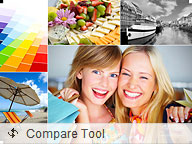 Sony Ericsson W8 in our Photo Compare Tool
The Sony Ericsson W8 isn't the best even in its own class, but it's not among the worst 3 megapixel sharpshooters either. Then again no one really expected it to set the world alight with its camera so its probably good enough.
Video recording maxes out at VGA
Video recording on the W8 goes as high as VGA resolution which, needless to say, is far from impressive. At least the framerate is a good 30 fps and consistent enough.
The interface of the camcorder is similar to the one on the still camera, except that there are even fewer settings. You can set the video quality, turn the video light on and off and that's that.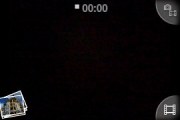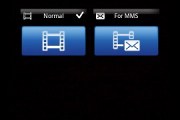 The camcorder UI
Videos are rendered in 3gp format suggesting lower bitrate, which in turn leads to some compression artifacts. Videos also suffers from the lack of detail so they aren't too nice to watch on a computer screen.
Here's an untouched
VGA video clip
for download
Connectivity aplenty
Despite its size, you get pretty decent connectivity options on the W8. For starters, you get quad-band GSM/GPRS/EDGE for worldwide roaming and two versions with either dual-band (900/2100 MHz) or tri-band (850/1900/2100 MHz) 3G with HSPA.
As for local connectivity, the W8 offers USB v2.0, Bluetooth v2.1 with A2DP support and Wi-Fi. The USB interface is standard microUSB and it can charge the phone over a USB connection to a computer.
The microSD card is accessible in mass storage mode or you can plug it into a card reader, which is the fastest way to do bulk data transfers.
Web browser lacks multi-touch and Flash support
The Android browser on the Sony Ericsson W8 is pretty decent but there are a couple of major disadvantages - the lack of Flash support and no multi-touch.
That aside it retains the same minimalist user interface as most of its droid peers – all you get on the screen are the zoom controls. The address bar is hidden by default to save some space as the low resolution doesn't allow much content to fit on the screen anyway.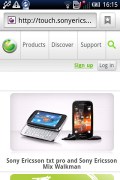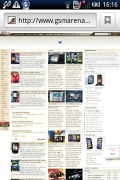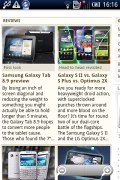 The web browser
Still the UI is functional – hit the menu key and four keys pop up. You can open/switch tabs, refresh the page, go forward, open bookmarks.
Unfortunately, the Android browser on the W8 supports only a single zoom method – the dedicated onscreen buttons. Even double tab doesn't work in the browser.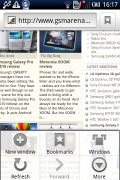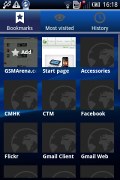 Browser options • Bookmarks menu
On the positive side, the browser supports text reflow – as soon as you zoom, columns of text adjust to fit the screen width. But the nice magnifying glass we saw in the Xperia X10 and X8 isn't featured here.
A good organizer
Our Sony Ericsson XPERIA W8 came with no preinstalled document viewer so we had to snatch one off the Android Market. There is plenty of choice there so we don't consider it too much of a disadvantage.
When you download an app it automatically integrates with the Gmail app as well, so you can view attachments. Unfortunately, you can't save them in the phone memory (that only works for images). Attaching saved files (and we mean all kind of files) is possible though.
Another option is to use the Preview option of Gmail, which renders the Office file (or PDF) into HTML which is then displayed on the phone.
The calendar has only two view modes - daily and monthly. Adding a new event is quick and easy, and you can also set an alarm to act as a reminder.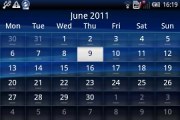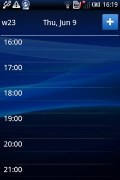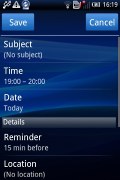 Calendar app
There is also a calculator, and a note application. The calculator is nicely optimized for the smaller screen, offering big buttons for ease of use. The notes app is self-explanatory.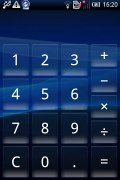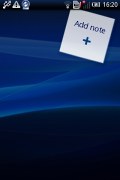 Calculator app
There are a stopwatch and a timer on board.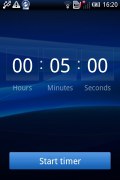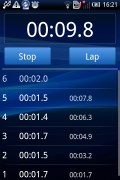 Timer • Stopwatch
The W8 features a decent alarm clock application, which allows a huge number of alarms to be set, each with its own start time and repeat pattern. Also featured is the Sony Ericsson Backup and restore application, which can safe your precious data should you lose the phone or it brakes down.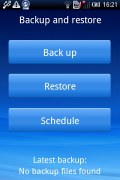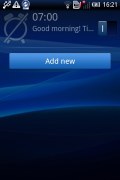 Backup and restore • Alarm clock
Finally, the YouTube app partially compensates for the web browser's lack of Flash support. Its interface is simple enough to let you find whatever you're looking for as quickly as possible.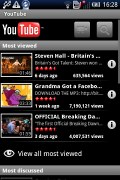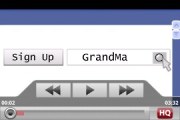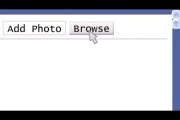 The YouTube app sort of compensates for the lack of Flash support
Android Market has what you want
The Android Market has grown a lot. It offers over 100,000 apps, the majority of which are free.
The Market organizes apps and games into two separate tabs, and each tab shows the best in the relevant category. The third tab keeps track of what you've already downloaded.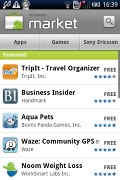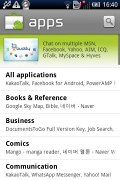 The Android Market
Searching is very easy – just tap the search button, type what you're looking for (e.g. "navigation"). From then on, it's pretty easy to choose – each app has a rating, a short description by the author, user comments and screenshots.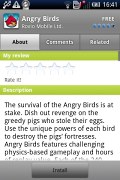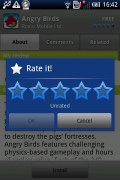 Viewing and rating an app
Applications vary from pretty basic tools (such as the one that turns the display into a flashlight) to real must-have's (including file managers, navigation software and more), but that's true for every other app store.
GPS navigation the Google way
No surprise, the W8 comes with Google Maps out of the box. Multi-touch doesn't work so you're stuck with the traditional zoom keys or double tapping.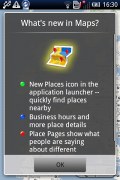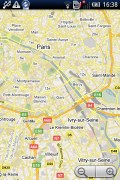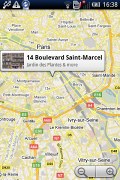 Google Maps without multi-touch
A tap-and-hold on the screen activates a popup menu which ,among other things, can launch Street view. As usual, you can enjoy the 3D view of the area, which is controlled by sweep gestures with impressive fluidity. They can also make use of the built-in compass for an even better experience – just hold the phone in your hand and turn around and Street view will follow you.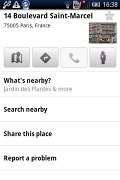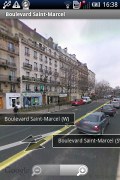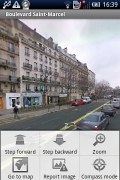 The popular Street view service
If you're in one of the supported countries you could try Google Maps Navigation – it should work on Android 1.6 Donut, even if some of the features from the Eclair version aren't available (e.g. voice commands). Google Maps Navigation is the voice-prompt enabled version of Google Maps.
Final words
You'd be better off not hoping to be surprised by the Sony Ericsson W8. And that's not necessarily a bad thing. This phone is supposed to have sentimental value. This may sound tacky but entry level phones usually fail to have a compelling enough story to tell. That's where Walkman comes in. And it's not like Sony Ericsson had to try too hard either.
So, it's a low-end smartphone through and through. The screen is small and the OS version is outdated. It's a middling feature set at best but the connectivity is solid and stuff like the FM radio and social network support make sense.
It's not a bad phone if you're looking for a smartphone on the cheap. It's got the basics covered and doesn't promise anything it can't deliver.
We guess it was time the Xperia X8 got updated too, just like its Xperia siblings. It's only that it never got anywhere near the major updates.
The Sony Ericsson Xperia X10 mini could still be an option to consider while the Xperia X8 hardly deserves a nod. The original mini has a lower resolution display but brings a better 5 megapixel autofocus camera and a very competitive price tag of about 120 euro. The X8 has hardly anything to offer over the W8.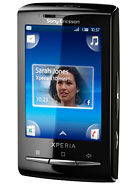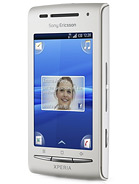 Xperia X10 mini • Xperia X8
This year's Xperia mini edition easily puts the W8 to shame with a better screen, faster 1GHz processor, 512MB of RAM and the latest Android 2.3 OS. No doubt though, it will cost more than the Walkman droid.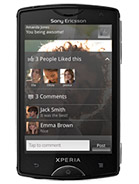 Xperia mini
The Galaxy S5570 is another mini to consider. It offers a slightly bigger multi-touch display and is a bit more up-to-date on the Android releases, but has a lower resolution display than the W8. The rest is pretty much on par - meaning complete connectivity, social networking, internet, Android apps and music. We guess the choice is up to which customization you prefer, TouchWiz or Sony Ericsson's UI with Timescape.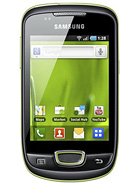 Galaxy Mini S5570
The HTC Wildfire S is a compact smartphone running the latest Android. Even the original Wildfire is a go - the QVGA screen is a disadvantage but the excellent build and finish make up for it. Both HTC phones have Sense UI 2.1, 5 megapixel autofocus cameras and multi-touch. HTC have a different definition of budget but you can't deny the premium build quality of their phones.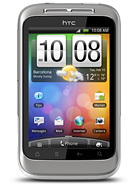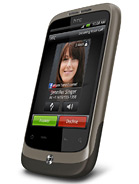 Wildfire S • Wildfire
To recap, if you're a newcomer to the smartphone game the W8 is a good place to start. It will be a good companion and one that can balance work and pleasure. It's a Walkman after all - and a droid. Some users will be delighted to hear it's a choice they don't have to make any more.